"Patiently Waiting, Hometown Edition" Limited Edition Print
"Patiently Waiting, Hometown Edition"
Available for a limited time and limited to 150 prints.
Each print will be hand signed and numbered by the artist.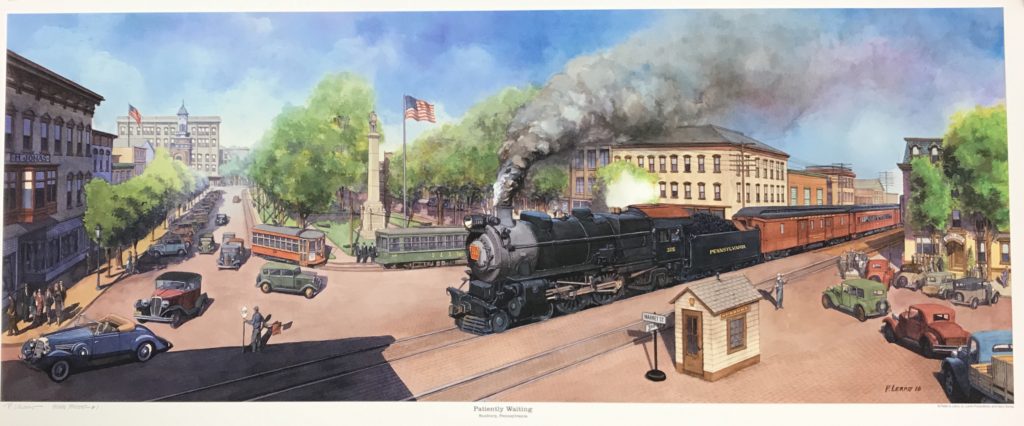 The artist, Pete Lerro Jr., has over 35 years of experience in illustration, specializing in lighthouse, landscape, and railroad paintings.  His gift of capturing the experience and excitement of historic steam railroading has given him renown the world-over, including workshops that help people capture this excitement for themselves.  In this commissioned painting, he has captured a moment in time from 1934.
The title 'Patiently Waiting' refers to those waiting for the train to pass, an E6 Atlantic Passenger train headed to Harrisburg on the Pennsylvania Railroad line, as well as, the observers of the scene, the patients, patiently waiting for Dr. Wilhour in his office in the Strand Theatre building.  His office was located at a position to capture this moment as the sun is setting, the watchman's shanty in the foreground, the Hotel Reed on the right, and the County Courthouse and the Neff Hotel in the distance.  The profile of the German Club window stands out above Jonas' Clothing where someone could look down to see the ad decorating the side panel of the S&N trolley.   Featured in the print, the S&N, the orange Sunbury-Northumberland trolley, and the S&S, the green, Sunbury-Selinsgrove trolley, are shown in the last year the trolley tracks fully circled the east end of the park.   It's certain that some of those traveling by trolley were traveling to and from Rolling Green Park.
This print is precious in the way it captures a moment in time.  With your purchase of a print, you can capture that moment as well.
Show your love for the local area, history and railroading by purchasing one of these beautiful 35″ x 15.5″ prints for $249.  
View a framed print at the SRI office at 353 Market Street, Sunbury.  
Reserve your copy today with a $100 deposit (download the sales agreement here). All proceeds to benefit the mission of Sunbury's Revitalization, Inc.
Framing is available at Schindler's studio for 25% off regular pricing.