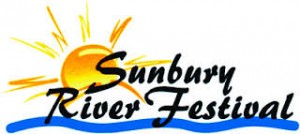 The 2018 Sunbury River Festival will be held August 16-18, 2018.  
Follow us on Facebook to keep up-to-date on announcements for the event.
---
Vendor Information
Vendors are an important part of our events. The requirements for vendors at each event is vastly different. We make every effort to make sure that we limit the number of duplicate vendors so that everyone has an enjoyable and profitable experience.
We are thrilled that you want to participate in the Sunbury River Festival as a vendor!
Please print the form and mail it to 249 Market Street, Sunbury, PA 17801. You can either mail a check for your vendor fees made out to SRI along with your registration and Certificate of Insurance, or you can  pay using the link below.
We will contact you the week before River Festival to provide you with details about your placement, directions, and other necessary information. In the meantime, if you have questions, please feel free to email sierra@sunburyrevitalization.org or call the office at 570-286-7768.
The Sunbury River Festival is a success for many reasons; the least of which is the participation of our vendors.
If you are interested in becoming a vendor for the Sunbury River Festival, click here!
---
Vendor Requirements, Rules, and Regulations:
In order to participate as a vendor in any of our events, we MUST have a current Certificate of Liability on file that lists Sunbury's Revitalization, Inc., the City of Sunbury, the event committee, its partners, sponsors , and their agents as additional insured, providing a minimum of $1,000,000 Liability coverage. Without this Certificate we will not be able to allow your participation. If you or your insurance provider have any questions, please refer to this

example

.

 A non-food vendor who is a home-based business that does not promote their product through paid advertising and is not part of a group or organization that promotes their product on their behalf are exempt from this requirement.
Anyone serving food will also have to provide a valid ServSafe Certificate in order to participate.
All events will be held rain or shine.
You may begin setting up 4 hours prior to the event, or as otherwise specified on event registration.
Vehicles must be removed from the event one hour before starting time and must remain out of the event area until ending time and all pedestrian traffic has cleared.
Vendors must stop selling and begin departure procedures at the designated time.
Pricing restrictions: Food vendors must display prices.
Outside alcoholic beverages prohibited.
Participation fee includes One (1) 10' X 12' space. Additional space and electrical service is additional.
Vendors must supply their own tent, table and chairs, water hoses, and extension cords.
Use of your own generator is encouraged and required if you need more than ONE (1) 240 volt outlet or 30 amps. Electrical service provided by SRI is NOT INCLUDED in your participation fee. Please do not overload the electrical outlets, only one appliance per plug. Multiple cords and power strips are forbidden. Overloaded circuits can lead to prohibition of electric use on the day of the event.
All decisions of the Event Committee are final. Committee reserves the right to deny any application.
No refund for no-shows or cancellations within 30 days of the event.
Sunbury's Revitalization, Inc., its sponsors, or their agents, officers, employees, and volunteers ​will not be responsible for theft, accidents or loss or damage to property belonging to vendors. Further, Vendors shall indemnify and hold harmless Sunbury's Revitalization, Inc., its sponsors, or their agents, officers, employees, or volunteers ​from any and all claims and damages including attorney's fees and court cost for personal injury, loss or damage to property caused by or due to the acts of omissions of the vendors.
Photographs taken during an event may be used in promotional materials.
---
The Valley's Got Talent
The 28th Annual Sunbury River Festival returns to its roots in Downtown Sunbury and Cameron Park this year and will kick off with The Valley's Got Talent, Thursday August 17th at 7pm.. YOU could be the next star in the Valley.
Are you a singer, dancer, comedian, musician, band? Then we are looking for you!! Did we also mention, there are cash prizes?
1st prize: $400.00 | 2nd prize: $200.00 | 3rd prize: $100.00
Sign up today for The Valley's Got Talent. Preregistration deadline is July 28th. Preliminary round will be August 10th & 11th. LIVE finals will be held on August 17th at Shikellamy High School!
To register for The Valleys Got Talent, click here!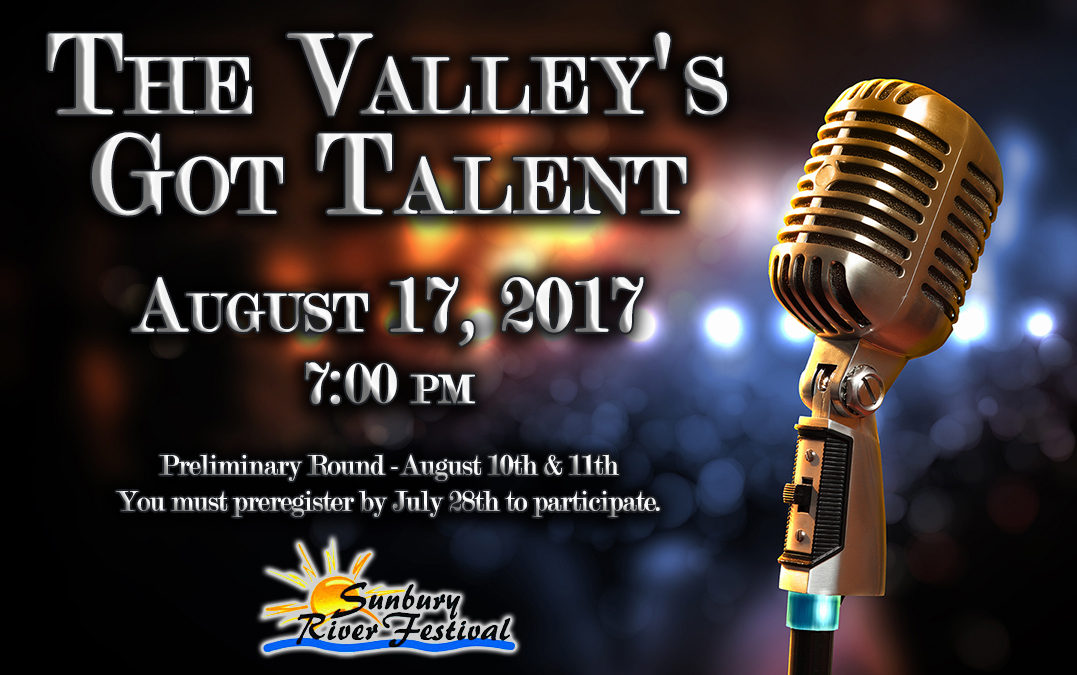 ---
Car Cruise In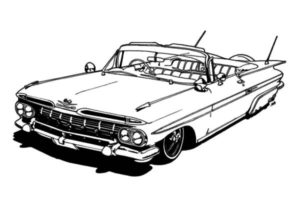 Join us at the Sunbury River Festival "Car Cruise In" on Saturday, August 19 from 8am to 3pm to check out unique and classic cars from the area, PLUS, enjoy music and door prize drawings throughout the show!
Would you like to show you car at the Cruise In?
– Registration is $12.00 (Download the registration form here)
– 9 different "Best of Class" trophies | 1 "Best of Show" trophy | 1 Peoples' Choice
– T-shirts and goodie bags to the first 125 registrations
---
Cardboard Boat Regatta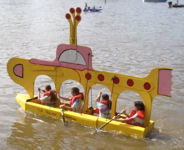 Saturday, August 19 -Registration Begins at 1pm, races begin at 4pm.
Build and decorate a boat in any shape or size – using only cardboard, duct tape, glue, and paint.
ROW your creation in front of hundreds of spectators…SINK spectacularly OR make it to the FINISH line!!!
Visit the Central PA Rowing Association website for more information and to register.