Today Sunbury's Revitalization, Inc.(SRI) announced winners of the December 6th Late Night Shoppers drawings. SRI Executive Director, Sierra Woodling, said, "The event was a huge success." An estimated 1,000 shoppers, visitors, and children patronized dozens of stores in Sunbury, which stayed open late for the event.
Matt Catrillo, a Sunbury resident and News Director for WKOK stated, "Most downtown parking spaces were taken, and that was a pleasant surprise. I couldn't believe it – the downtown was packed. It was wonderful to see that."
SRI promoted the late night shoppers event on social media, newspaper, and radio, and hoped that the renewed effort to pack the downtown would work. "We offered free carriage rides and held a drawing for some wonderful prizes for visitors who spent time at participating shops," said Woodling. Several business owners commented that this was the busiest night of the year for them, which represents great success by any standard.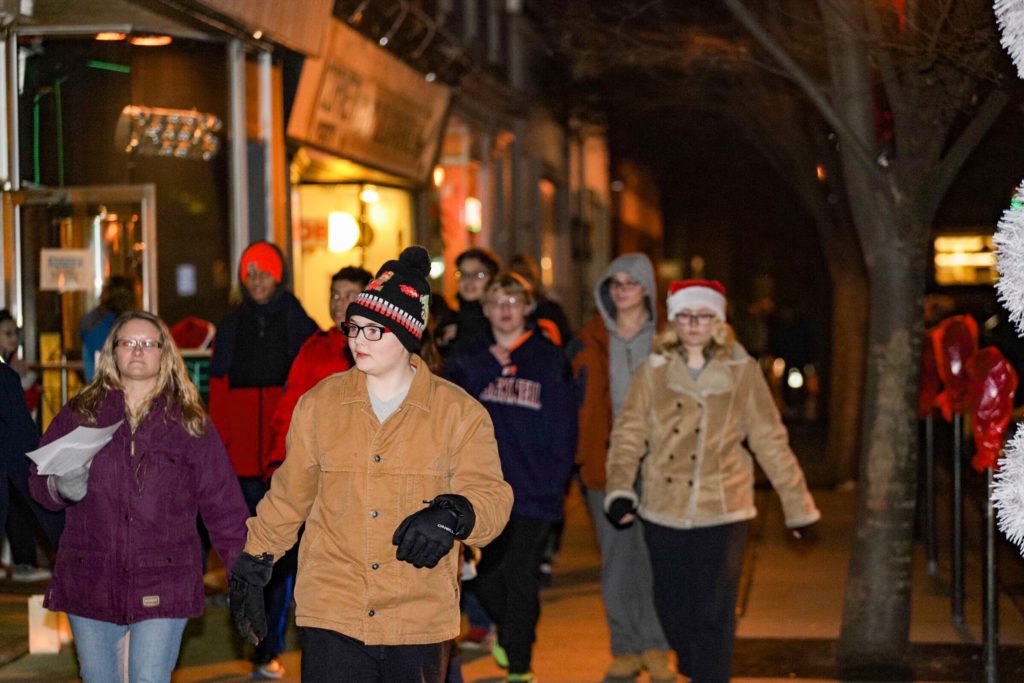 Photo credit: Fully Exposed Photography
Prizes won during Late Shoppers Night drawing included:
Coles $25 Gift Card
Eclipse Craft Brewing Free Growler
Frank & Mellies $10 Gift Certificate
Independently Made Boutique & Art Studio Free Adult Paint Class
Jasmine Aire Boutique $50 Gift Certificate
Knuckles & Needles Tattoo $50 Gift Certificate
Little Addy's Café Gift Basket
Old Time Traditions Gift Basket
Sports Zone Toys & Comics Floor Mat, Basketball Poster and Paw Patrol Toy Sunbury Motors Free Oil Change
The Dip In $20 Gift Certificate
The Edison Restaurant $25 Gift Card
The Market House hand woven wool rug by Wanda
The Salvation Army Family Store $15 Gift Certificate
The Squeeze In $20 Gift Certificate
Tony's Custom Tailor Shop discounted Tuxedo Rental
Weis Markets $25 Gift Card
Bradyn's Bargains gift
50/50 winnings of $67.50
While SRI and the City of Sunbury are happy with the success of this year's Late Night Shoppers event, they regret that there will not be a New Year's Eve celebration held in the downtown this year. SRI was hoping for volunteers to spearhead a New Year's Eve event, but it did not have that good fortune this year. The SRI Board would like to bring back the New Year's Eve celebration in the future, but volunteers and business participation are needed to make that happen.

SRI Board Member Chris Reis said, "Sunbury's Revitalization Inc. appreciates the inquiries into the New Year's Eve event. We encourage residents and visitors to continue to support our local establishments. Many Sunbury businesses will still be open on New Year's Eve and we encourage residents and those coming to Sunbury to check with your favorite New Year's destination to see what kind of events or specials they will offer that night. We hope everyone has a great holiday season and a happy new year."
Late Night Shoppers and New Year's Eve are just two of SRI's events and programs, all organized by volunteers and with a majority of funding coming from private donations. Other events and programs include Movies on the River, Hometown Hero Banners, Downtown Flower Baskets,Small Business Assistance Awards, Sunbury Sandwich Stroll, Downtown Window Painting, various Hill Neighborhood events, Sunbury River Festival, Car Cruise-In, Valley's Got Talent, Brews on Lake Augusta and the Sunbury Pride and Renaissance Coalition, aka SPARC.
Should you have questions about any of SRI's events or programs, or wish to volunteer, please visit the SRI website(www.sunburyrevitalization.com), call or stop by the SRI office located at 353 Market Street, Sunbury.