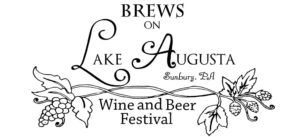 In its 6th year in 2018, Lake Augusta Wine & Brew Festival is being chaired by the Sunbury Hill Neighborhood Association. It has been renamed 'Brews on Lake Augusta.'
The festival is a celebration of locally brewed wines and beers, good food and music along the banks of Lake Augusta (where the branches of the Susquehanna River meet in Sunbury).
We welcome 30+ wineries and breweries, as well as a limited number of food and craft vendors, to sample and sell their goods at the festival.